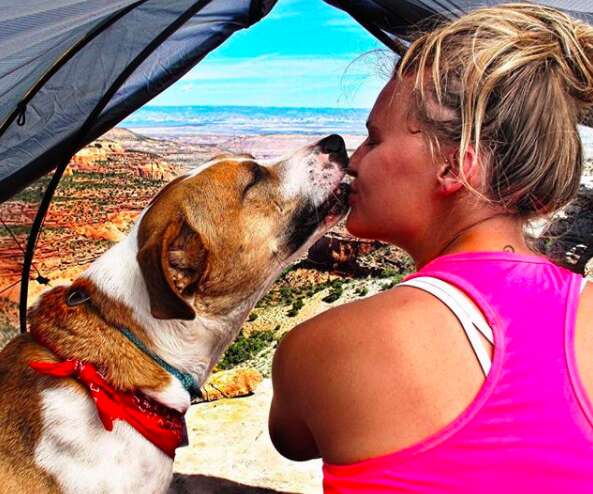 Cynthia Bennett didn't immediately consider adopting Henry when she and her partner went to an adoption event in 2014. Initially, she planned to adopt a golden retriever mix. However, something drew her attention to Henry. As she looked around, she spotted him sitting alone. The organizers informed her that he was only three and a half months old, but he was already significantly larger than other puppies of his age. He had long legs and a body type that resembled a wolf or husky.
As soon as Bennett stepped into the pen to greet Henry, the furry animal dashed towards her. With great excitement, Bennett shared how Henry nuzzled into her lap and rolled over, resting his head on her arm. From that moment on, Bennett knew that it was a done deal – she was taking Henry home with her.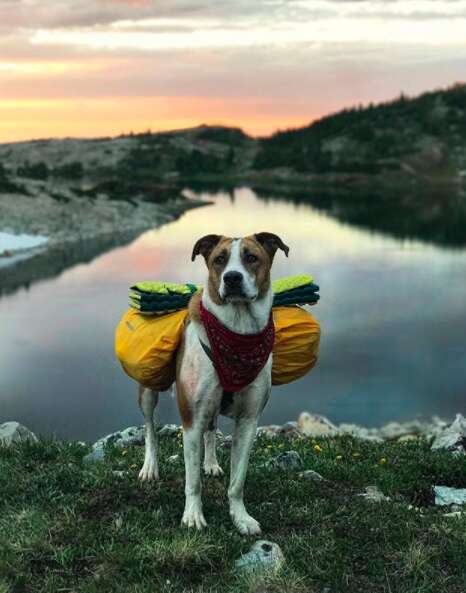 Bennett and her partner are passionate about hiking and relocated to Colorado with the intention of embarking on outdoor expeditions during their leisure time. It brought them immense joy to learn that Henry shared the same enthusiasm for hiking as well.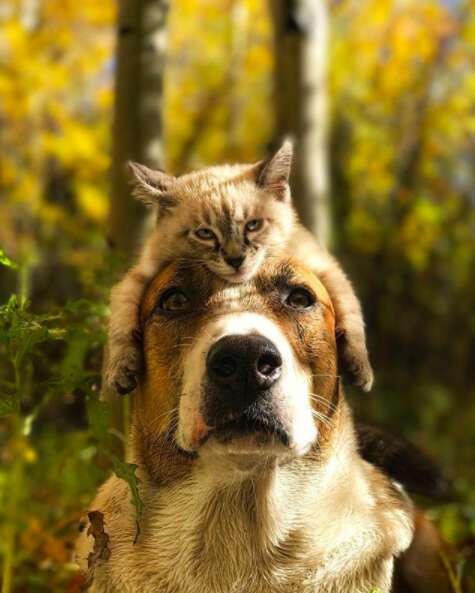 According to Bennett, when they took their new pet on their initial hike to Garden of the Gods in Colorado Springs, he had only been with them for three days. He recounted how the furry creature quickly found the steepest and highest rock in the area and ran up to the summit to peer over the edge.
Bennett affectionately refers to him as their "little mountain goat." He always manages to give them a fright as he fearlessly scales the highest cliffs and rocks to catch a glimpse of the view from above.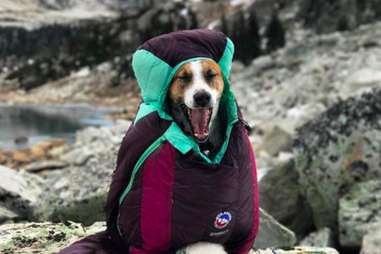 A few months back, Bennett and her partner decided to expand their family by adopting a rescue kitten. Bennett searched for five months for the perfect feline companion who could accompany them on camping and hiking trips. After many unsuccessful attempts, she finally found Baloo, a Siamese kitten mix, at a local shelter. Similarly to how Henry became attached to Bennett, Baloo loved her from their first encounter. However, it was Henry who captured Baloo's heart as he loved playing and cuddling with him. Baloo even refused to be left behind when Henry went on hikes and would scream at the door if he sensed that Henry was leaving without him. Seeing how eager Baloo was to explore the outdoors, Bennett began harness training him, which turned out to be a natural talent for Baloo.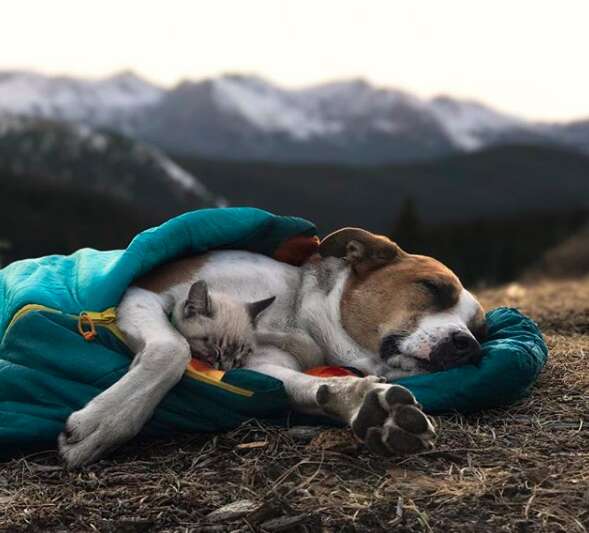 Bennett frequently receives inquiries about how her cat became accustomed to going outside on a leash. However, the truth is that he thoroughly enjoys it and eagerly desires to venture outdoors. She jokingly confesses that he may believe he is a dog rather than a feline due to his behavior. Consequently, they can no longer leave him alone at home for extended periods as he requires stimulation and outdoor activity.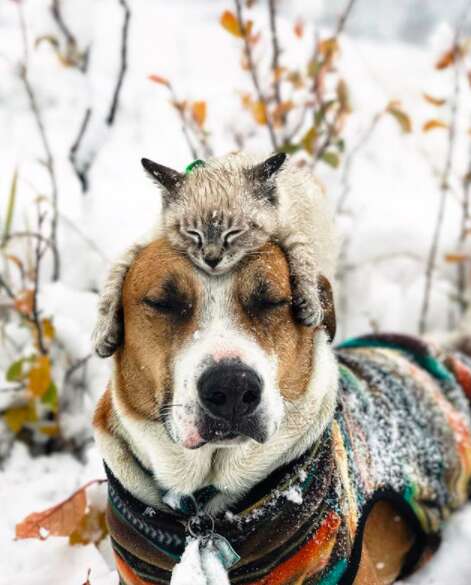 According to Bennett, it seems like Baloo also considers Henry as his mother. She refers to them as brothers, but Bennett believes that Baloo thinks of Henry as his mom because he constantly seeks comfort and looks for a teet from her. Whenever Baloo is with Henry, he nuzzles under her armpit as if searching for something. Bennett decided to take a photo of Baloo on Henry's head, and the result surprised her. Baloo hugged Henry's neck and head tightly, while Henry calmly lay there.
Baloo now accompanies Henry on all his adventures and his new family is extremely pleased with the outcome. Bennett expressed her joy in an Instagram post after adopting Baloo, stating that Henry has become an excellent big brother who constantly checks on him to ensure he's doing well. The family has embraced Baloo wholeheartedly, and they adore him more than words can express.